Yapı Azim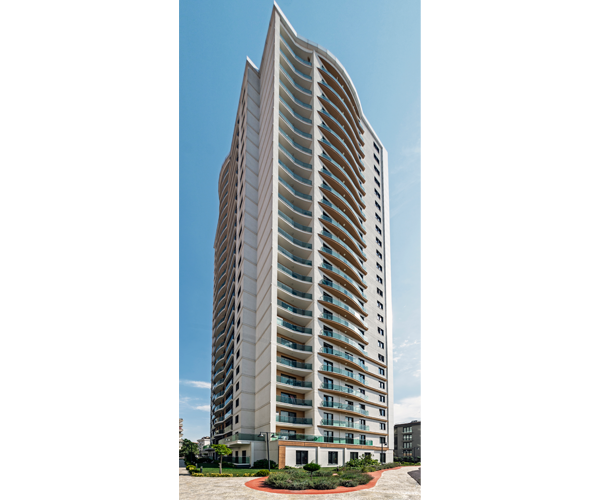 Veratec... We knew ASAŞ as a manufacturer firm of composite panels and curtain walls until the SEYR-İ ADALAR project we started to construct in Maltepe. SEYR-İ ADALAR residence project, which is consisted of 120 apartments, was the highest project with the height of 80 m above-grade that our firm has constructed. Therefore, we tried hard in this Project. We were oversensitive on the selection of the facade coat and joinery system. We decided to use the materials which are resistant to 1.100 Pascal wind pressure on facade.
As we know that the wind pressure value, which we desired, is very assertive, we communicated with all import PVC joinery firms. While some of the firms told us that they could not provide this resistance value, the representatives of other two firms told us that they could provide this criteria by using supporting profile. We requested from the firms to prove the desired criteria by the tests to be performed by them, they told us that they had not the test mechanisms unfortunately, but they could only give written guarantee. We thanked them because the supporting profile which they considered to use was not stylish and they had no test mechanisms. We continued searching.
One day, Ahmet Yavuz, who is a founder partner of ASAŞ, came to the firm for visiting. He was informed on our investigations somehow. He talked about the Holland series 120 mm profile which they export to Holland. We heard the profile size of 120 mm for the first time. We thought that they could provide the desired criteria, and requested them to make a bid. Ahmet YAVUZ understood the oversensitivity of our firm and said that they shall not give the bid immediately, first they shall manufacture a joinery with the largest size of ours and test it at the factory, if it passes the tests then they shall make a bid. We waited the news with a thrill... PVC Project manager Ümit ÇİÇEK, said us that they performed the tests, and the desired criteria was achieved with the product, and invited us to their factory...
We waited the news with a thrill...
PVC Project manager Ümit ÇİÇEK, said us that they performed the tests, and the desired criteria was achieved with the product, and invited us to their factory...
At the factory, a wind and rain test at 1.100 Pascal, and only wind test at 2.000 Pascal performed on the joinery under our supervision... So, we were pleasured by seeing a joinery which provides the desired criteria.
Thereafter, we toured in the huge facility with an area of about 200.000 m2. They told us that the 180.000 m2 of the facility was being used for aluminium and composite panel production and 20.000 m2 for PVC joinery production. We were amazed when we toured in the facility. We were proud on behalf of our country. We recognized that we were over interested on the foreign firms, while purchasing PVC joinery for years.
VERATEC, introduced us such a different material with its knowledge and knowhow.
I want to say thanks to Tuncay Mutlu - PVC and Louver Sales Director, H. Hüseyin Yüksel - PVC R&D Manager, Ümit Çiçek - PVC Project Manager, and VERATEC R&D Project team for their exact works and interest...
I congratulate VERATEC and its managers which performs special production according to the criterions of many country all over the World and which carries its field of activity cross-borders...
We have worked with many PVC joinery firms for the projects we have constructed.
But we see VERATEC as our solution partner now.
So, we decided to work with VERATEC also for residence Project consisted of 193 apartments and 3 blocks in Sultanbeyli.
VERATEC is a corporation that achieved our acclamations with the technical support it provides, and sampling during stages of taking samples, and devotion to satisfy the though persons such as we.
I wish you many successful projects and years with my wish about our friendship and business relation to be long lasting for the following years.
Murat SERTOĞLU