ASAŞ Has Been a Beacon of Hope for a Life with the Blood, Thrombocyte and Stem Cell Donation Project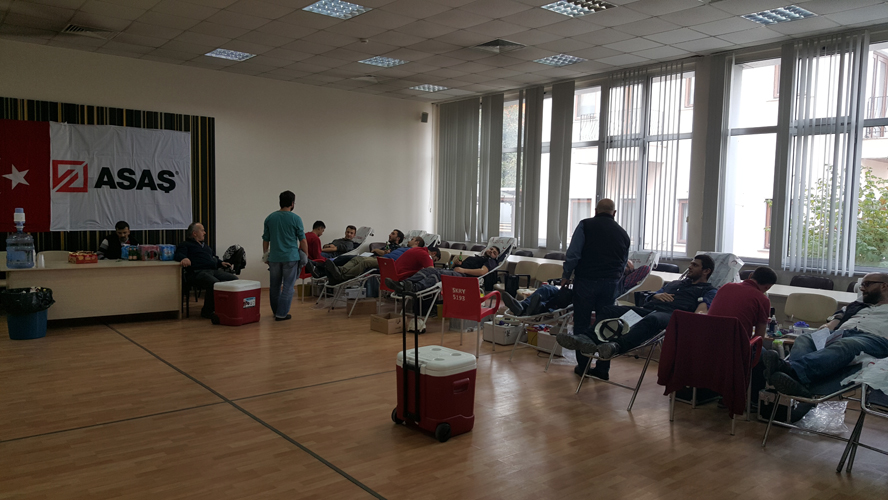 ASAŞ Has Been a Beacon of Hope for a Life with the Blood, Thrombocyte and Stem Cell Donation Project
ASAŞ, which is ranked as the Number 91 among the biggest industrial organizations in Turkey, gave hope to a patient with its ''Blood, Thrombocyte and Stem Cell Donation Campaign'' that was initiated to provide voluntary, conscious and regular blood donors and to create repeatable blood donation processes.
Acting with the awareness that there is no alternative other than humans to supply blood, ASAŞ started to prepare preliminary banners to communicate its activities about its internal blood donation culture and to increase awareness. At first, it started its activities in its products facilities located on 650.000 sqm area, 300.000 sqm of which is indoor area, and then it aimed maximum participation by providing trainings to all its staff about blood, thrombocyte and stem cell donation in one day per week during a 3 week period.
During the campaign conducted together with Kızılay (Red Crescent) at its Akyazı/Sakarya production facilities on November 15, 2016, ASAŞ family employees donated 152 stem cell samples and 325 units of blood. A list was prepared for thrombocyte donation with the support of Kızılay (Red Crescent).
ASAŞ, which plans to continuously implement this Blood Donation Project at an increased ratio and to increase one-in-a-million probability of stem cell matching with a patient by raising continuous donation awareness, was proud to give the good news to its donors, employees and all supporters in a short period of time.
After the matching of the tissue sample of Murat Konar, one of the donors of ASAŞ, with the patient; the tissue verification tests conducted by the Ministry provided positive results and the good news was provided to the patient. After it was concluded that the medical condition of Mr. Konar is suitable for transplantation procedures, stem cell was transplanted to the patient on August 18, 2016. According to the information obtained from the Ministry of Health, the results of the analysis which was conducted once every 15 days were very good, and the patient was discharged from the hospital on the day 45 and the current medical condition of the patient is good.
During the transplantation process, the former technologies were replaced by ''Peripheral Stem Cell Collection Method'' which increases the amount of stem cell in blood by means of stimulators that are injected twice under the skin of donor. Peripheral blood collected by this method, which is also known as Apheresis Method and which is the most frequently used method, is separated from other components by using ''Apheresis Device''. Blood collected from arm by means of a sterile needle and blood with stem cell separated is injected into body through the other arm. During this procedure, no significant discomfort/disorder is expected to occur, and many donors return to their daily activities within 2 days following donation. A donation process takes 20 to 30 hours on average in 4 to 6 week period.
With its over 2000 employees, ASAŞ family implements the traditional blood donation project together with Kızılay (Red Crescent) and aims to make a contribution to social health and to set an example by increasing the awareness of other companies.