ASAŞ Family Has Been a Beacon of Hope for Two More Persons with Stem Cell Project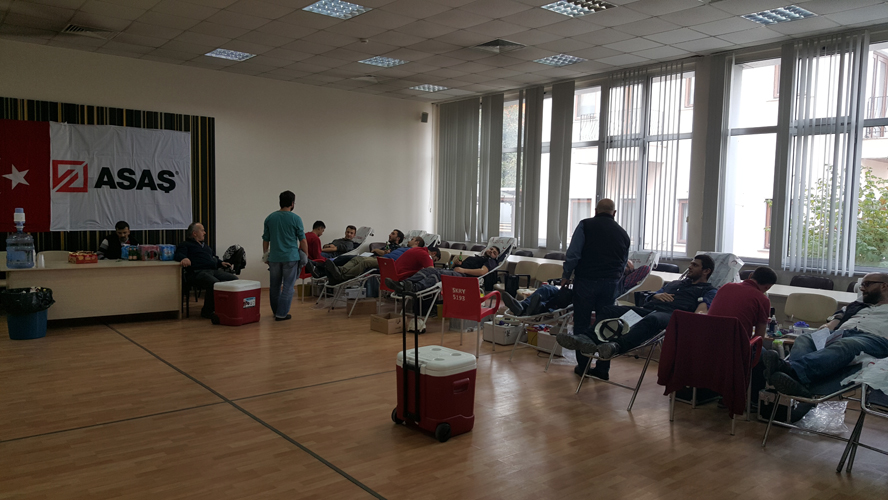 ASAŞ Family Has Been a Beacon of Hope for Two More Persons with Stem Cell Project
ASAŞ continues to be a beacon of hope with blood, thrombocyte and stem cell donation campaign which became a tradition within the corporate social projects.
In this Project, which was supported with the trainings provided to all staff during 3 weeks in order to raise awareness on donation and to ensure high participation, ASAŞ experienced the happiness of being able to make contribution to public health with the realization of the first stem cell transfer successfully. A chance arouse to be able to touch on the life of two more cancer patient for ASAŞ family with receiving the news of matching 2nd and 3rd stem cells. Stem cell transfer is carried out after the positive results were obtained from the histocompatibility tests performed with Oğuz Serhat Kekeme, who were employed in Electrostatic Powder Paint Facility operating under Aluminium Profile Production Facility and who was among the ASAŞ donators. Immediately after, e new matching news welcomed with happiness in recent days, and the process is started for performing the necessary tests.
Thanks to the peripheral stem cell collection method, the process of taking stem cell from the donor is performed without creating a disruption in the normal life of the person. Increasing the number of the volunteers for stem cell donation which may save the lives of many patients, is substantially important, because the matching possibility of one person, who has been enrolled as donor, within 10 years is only 5% according to the statistics. In the blood, thrombocyte and stem cell donation campaign, which was run by ASAŞ and Kızılay together, a sampling has been performed for about 450 units of blood and about 200 stem cells until today.
The blood, thrombocyte and stem cell donation campaign which is a corporate social responsibility Project under the setting of Life in ASAŞ, is carried out with the voluntarily participation of ASAŞ employees.
ASAŞ Family, believing in the importance of socialization of the firm's employees and taking part in the projects which may be beneficial for public, aims to traditionalize the blood, thrombocyte and stem cell donation campaign by increasing the participation, and to be a leader in order to extend these kind of activities within the sector and in the workplaces in the vicinity.