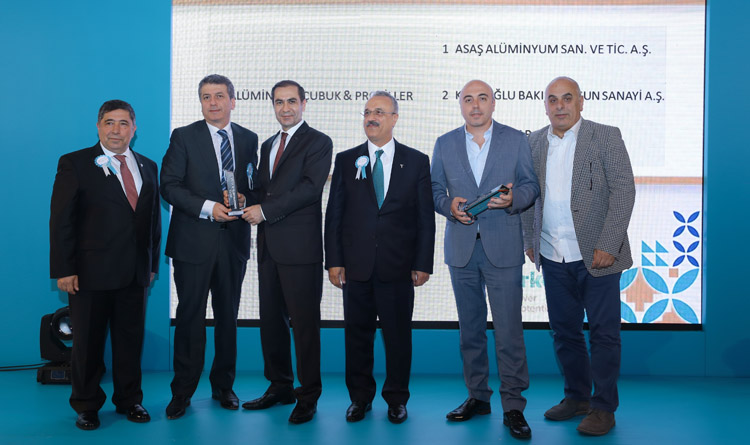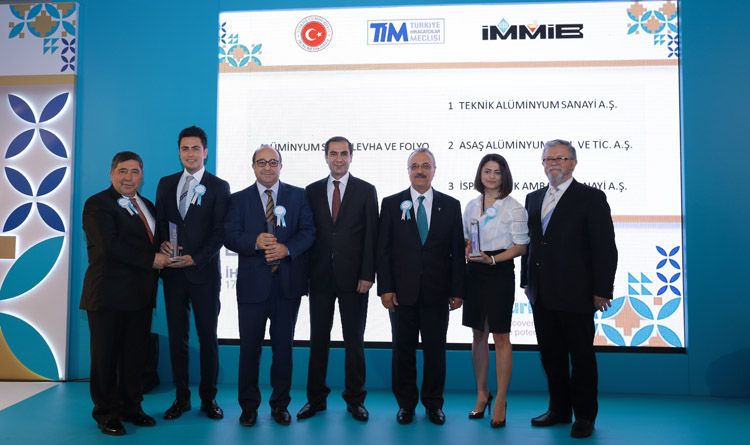 ASAŞ Continues Being the Star of Aluminium Exportation
ASAŞ, which is one of the biggest companies listed in ISO 500 in Turkey with its 5 state-of-art production facilities in Akyazı, Sakarya region and over 2000 workers and stable growth trend since its incorporation in 1992, and which is also one of the leading producers in Europe, received the 1st Prize in the category of 'Aluminium Bar and Profiles' and the 2nd Prize in the category of 'Aluminium Coil & Sheet and Foil' at the Metallic Stars of Export Award Ceremony that was organized by Istanbul Ferrous and Non-Ferrous Metals Exporters' Association (İDDMİB) and given to those companies that made the highest amount of exports in 2015. In the ceremony that took place at Grand Hyatt Hotel in Istanbul on 17.05.2016, Tarık Sönmez, Assistant Undersecretary of the Turkish Ministry of Economy presented the awards to Safa Bayar Yavuz, Chairman of Board of Directors of ASAŞ and Bülent Akif Atabay, General Manager of ASAŞ.
At the 6th edition of İDDMİB Metallic Stars of Export Awards Ceremony; 61 successful exporters were presented awards in 24 different categories such as aluminium coil & sheet and foil, aluminium bars & profiles, aluminium construction components, aluminium billet, aluminium kitchen wares, copper bars and wires, iron –steel wares etc. Besides these, the companies that increased their exports at the highest level, the companies that made the highest amount of exports to target countries and increased their exports continuously in the last 5 years were presented awards. On this occasion, successful exporter companies gathered with the high-level authorized officers of the Ministry of Economy, Turkish Exporters Assembly & other authorities and organizations.
The value that ASAŞ attaches to continuous development lies behind the increasing success of ASAŞ. ASAŞ, which follows up innovations and aims to achieve continuous development by making investments to technology, maintains its research & development and product development activities at its R&D Center, which is the first and only R&D Center in its sector that was approved by the Ministry. In addition to its producer identity as a company that provides services to many sectors such as automotive, energy, durable consumer goods, furniture etc.; ASAŞ enhances its knowledge in the field of production with its design and product development activities and presents its high-quality products to the market under its own brands. ASAŞ offers a wide range of products intended for construction sector under the following brands: ASAŞPEN (PVC door and window systems), NATURALBOND (aluminium composite panel), ALUDES (aluminium flag and lighting poles), RESCARA (aluminium door, window and curtain wall systems) and NATUROLL (roller shutter systems, garage gates and motor control systems).
Believing that not only science but also art makes great contributions to the development of societies; ASAŞ decided to increase its support to art by founding ASAŞ ART platform in 2015. ASAŞ ART acts as a learning + sharing + design + production platform that brings art and design students together with academicians and professionals. ASAŞ is planning to organize courses and seminars for the spouses and children of its employees for the purpose of demonstrating the change created by art in societies and triggering the ability of acquiring different points of view internally. Also, the company aims to develop projects to enable our handicapped friends to create works of art in line with the social responsibility activities of ASAŞ.
ASAŞ, which made approximately 83 Million USD export to over 80 countries in 2015 with its products, services and contributions, continued to be the proud of Turkey and shining star of aluminium sector at the occasion where Istanbul Ferrous and Non-Ferrous Metals Exporters' Association (İDDMİB) presented awards to the successful exporters of 2015.